For Meaghan Hannan Davant, Capitol Hill is not the throbbing, recently convulsed heart of political power in Washington, D.C., but an unpretentious small town. "People don't wear makeup," said Ms. Davant, a 39-year-old lawyer, who has been living in the Capitol Hill Historic District since 2006. "They wear yoga pants and drive Honda Odysseys. We do walk down the streets and see the newscasters and senators, but they're in their sweatpants, just like us."
Neighboring the United States Congress and the Supreme Court, the historic district is where monumental, white-stone Washington intersects with a quirky, lush village. Victorian houses send up peaks like flares, outdoor cafes hum with gossip and baby strollers seem as plentiful as business suits. Like the Capitol dome, which has a habit of popping up when you turn a corner, government is frequently in the foreground, but coexists with a larger, more diverse landscape.
Ms. Davant typifies this neighborly relationship. She and her husband, Charles, and their two children live in a 3,092-square-foot 1895 house at 606 Massachusetts Avenue NE, which they bought in 2013 for almost $1.5 million. They rent their English basement to a congressional staffer for $1,850 a month, including utilities.

It's a common neighborhood practice. The extra income is welcome for homeowners shouldering the cost of expensive housing. For the year through Nov. 16, the median sales price of homes on Capitol Hill was $684,500, an increase of 6 percent over the previous year, according to the real estate information website Homesnap.
These arrangements also provide young people, many working at lower-rung government jobs, with an affordable place for the short term — a rarity for the area. In the historic district, which encompasses around 200 city squares, rental buildings are scarce. An exception is 700 Penn, a mixed-use development at 700 Pennsylvania Avenue SE, formerly occupied by Hine Junior High School. After six years of legal challenges from community members who objected to the size, the project is set to open next year with 162 affordable and market-rate rental apartments, 60,000 square feet of retail space and 150,000 square feet of office space.
Other new housing in the scrupulously preserved area takes the form of adaptive reuse. The Sanctuary, a renovated 1897 Gothic Revival church and adjoining townhouse at 819 D Street NE, began selling its 30 condominiums in June; the building is now 75 percent sold. The project is one of two recent church conversions on Capitol Hill currently marketed by Urban Pace, a real estate sales and marketing firm that focuses on new development. Matt Dewey, the company's president, described a trend of local churches following their congregations to the suburbs and selling their buildings to finance properties in the new locations.
What You'll Find
While the ever-growing boundaries of Capitol Hill are disputed, the historic district is clearly defined. As designated by the District of Columbia's Historic Preservation Review Board, which revised the map last year, it touches H Street NE to the north, 14th Street SE to the east, M Street SE to the south and South Capitol Street SE to the west.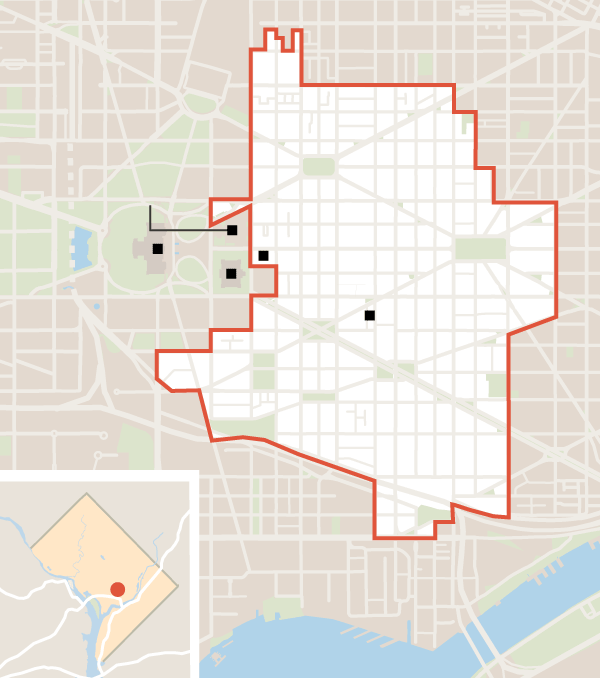 Among the area's roughly 8,000 buildings are houses with bay fronts, turrets, stepped Flemish parapets, Moorish balconies, gothic arches, dormers and many other features, sometimes in curious combinations. Judith Capen, an architect on a mission to catalog the various styles for the Capitol Hill Restoration Society, noted in a society pamphlet: "The defiance of style labels of so many of Capitol Hill's buildings should be seen as a celebration of diversity and not as a source of frustration."
What You'll Pay
As of Nov. 17, 46 Capitol Hill Historic District listings from multiple brokers were featured on DC Condo Boutique's website. They ranged in price from a one-bedroom one-bath 585-square-foot condominium in a 1927 building at 115 D Street SE, listed at $379,000, to a seven-bedroom eight-bath newly built house with a two-bedroom one-and-a-half-bath 1877 guesthouse at 612 Third Street SE, listed at $2.85 million.
Lee Murphy, a saleswoman at Washington Fine Properties, said it was too soon to see ripples in the local real estate market from the changing administration; she expects robust activity by the spring. If, as seems likely, President-elect Donald J. Trump brings outsiders to Washington, Ms. Murphy predicts that the newcomers will buy homes on Capitol Hill and in other areas, given the low interest rates and the city's high rental prices. She and Mr. Dewey of Urban Pace both said they had had at least one prospective buyer who had anticipated working for a Democratic administration and had backed out of a deal after Mr. Trump's victory. Ms. Murphy was not sympathetic. "Really, you do need to solidify your job before you start looking for houses," she said. "Maybe I'm old-fashioned."
The Vibe
Capitol Hill is beloved for its walkability, parks, commercial corridors with good restaurants (including the revitalized Barracks Row, along Eighth Street SE, south from Pennsylvania SE to the Washington Navy Yard) and Eastern Market, a 143-year-old site for local food vendors at 225 Seventh Street SE.
Larry Janezich, a Capitol Hill resident for 50 years who edits Capitol Hill Corner, a news website, praised the neighborhood's two Carnegie libraries and pair of independent bookstores, its network of community gardens, its weekend flea market near Eastern Market and its Historic Congressional Cemetery, which allows dogs to walk off leash on more than 35 fenced acres. (This is a membership program with a wait list and costs $275 to $375 annually, depending on the number of dogs you sign up.)
Mr. Janezich also noted that parking is a neighborhood concern, especially with 2,000 new apartments expected on the market in the larger Capitol Hill area in the next two years, many in buildings without provisions for cars.
The Schools
The neighborhood public schools are "improving dramatically," said Ivan Frishberg, a vice president of Amalgamated Bank, who was an advisory neighborhood commissioner on Capitol Hill from 2010 to 2014. But most of the strides are being made at the elementary school level, he added, while middle schools are lagging . "We don't have one core Capitol Hill middle school," he said. "And because of the kind of chaotic nature of charter schools popping up all over the place, the school population after elementary school gets spread out everywhere. It is a detriment to making neighborhood schools work."
Brent Elementary School, at 301 North Carolina Avenue SE, a public school considered one of the best in the neighborhood, has 384 students, prekindergarten through fifth grade. On 2015-16 state standardized tests, 61 percent of students met standards in English, versus 28 percent in the District of Columbia over all, according to District of Columbia Public Schools data; 61 percent met standards in math, versus 33 percent districtwide.
Stuart-Hobson Middle School, at 410 E Street NE, has 424 students, Grades 6 through 8. On 2015-16 state standardized tests, 24 percent of students met standards in English, versus 27 percent in the District of Columbia; 11 percent met standards in math, versus 20 percent districtwide.
Two Rivers Public Charter School, at 1227 Fourth Street NE, has 526 students, prekindergarten through eighth grade. On 2015-16 state standardized tests, 43 percent of students met standards in English, versus 28 percent in the District of Columbia; 40 percent met standards in math, versus 26 percent districtwide.
Eastern Senior High School, at 1700 East Capitol Street NE, has 967 students in Grades 9 through 12. On 2015-16 state standardized tests, 18 percent of students met standards in English, versus 21 percent in the District of Columbia; 1 percent met standards in math, versus 11 percent districtwide.
The Commute
Centrally situated and highly accessible, Capitol Hill is served by the Capitol South and Eastern Market Metro stations, on the orange, silver and blue lines. The Capitol South station is two stops from L'Enfant Plaza, where five Metro lines meet, and a walk of about 15 minutes from Union Station.
The History
Capitol Hill evolved from Pierre Charles L'Enfant's 1791 plan for a "Congress House" to be built on Jenkins Hill, at one of the highest points in the new federal city. Two neighborhoods sprang up in the area and gradually merged. One, a group of boardinghouses, served as temporary quarters for early members of Congress; the other was a community of shipbuilders and merchants, southeast near the Navy Yard. A building boom in the 1870s brought many Victorian houses to Capitol Hill that remain neighborhood ornaments.