WEBSITES AND ADDITIONAL RESOURCES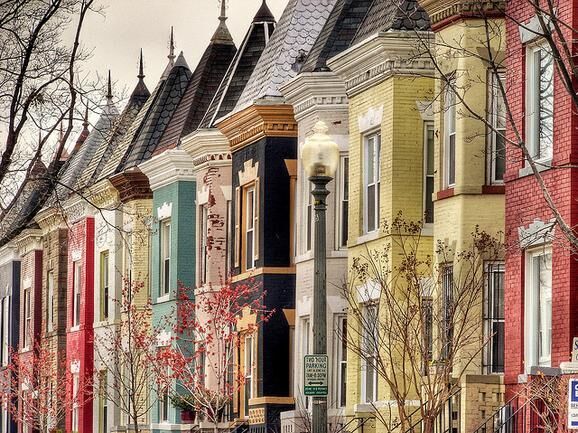 The neighborhood of Bloomingdale is in the heart of Washington, D.C. less than two miles (3 km) north of the United States Capitol building. Specifically, Bloomingdale lies south of Channing Street, N.W., east of 2nd Street, N.W. (north of Rhode Island Avenue), east of Third Street, N.W. (south of Rhode Island), north of Florida Avenue, N.W., and west of North Capitol Street.
Quite a few universities are close to Bloomingdale. Howard University borders the neighborhood on the north. Trinity and Catholic Universities are about one mile (1.6 km) northeast. George Washington University and Gallaudet University both are about three miles (5 km) southwest and southeast respectively. The University of the District of Columbia is less than four miles (6 km) northwest. Georgetown University is about four miles (6 km) west, while its law school campus is one mile south. American University is about six miles (10 km) northwest.
Most of the homes within Bloomingdale are rowhouses built around 1900 and are in the Victorian style. Nearby neighborhoods that border on Bloomingdale are Pleasant Plains to the northwest, LeDroit Park to the west, Shaw to the southwest, Truxton Circle to the southeast, Eckington to the east, and Edgewood to the northeast.
Bloomingdale has its own community-managed and community-owned greenspace, Crispus Attucks Park. The acre-and-a-quarter park, located within the court bounded by First, U, V, and North Capitol Streets N.W., was previously the site of a telephone switching station and cable yard for the Chesapeake & Potomac Telephone Company. In the late 1960s, the building and the site were left vacant until 1977, when a neighborhood organization that ultimately became the Crispus Attucks Development Corporation convinced Chesapeake & Potomac to sell the property. Crispus Attucks Park is privately owned, but open to the public, and is maintained through charitable donations and volunteer labor coordinated by the Crispus Attucks Development Corporation.