"The Scooter Boys," they were called, by pretty much everyone. You might have noticed them tootling about in motorized wheelchairs, hanging out at Tunnicliffs and Eastern Market, red warning flags hoisted above their chair backs—like local Sesame Street characters.
Joseph Hall owned the house at 802 Massachusetts Avenue, NE and lived there with his partner of 50 years, Bob Smith. Hall died in 2020 and Smith a year later. The pandemic, however, erased any notice of their absence from their long-time haunts. Now, their home of many years at 802 Massachusetts Ave. has changed hands.
802 Massachusetts
The grand house with the acid green trim was mobbed with curious neighbors when it was held open in early August.
Built circa 1910, the home has four bedrooms on the second floor, three parlors and a dining room on the main level, and a suite of rooms on the lower level. There's chestnut wainscotting, leaded glass, pocket doors, balconies, and fireplaces.
"The historic detail is amazing," said Lee Murphy, who co-listed the house with Carroll Chapin, both of Washington Fine Properties. "In my twenty years doing business on Capitol Hill I've been in at least a house on every block – and the amount of preserved detail here is just stunning."
There was a rush from contractors, salivating at the thought of a condo conversion. They were up against Steven Koons and his husband, Christopher Bryan Ray, who planned to return it to its former glory. Their plans won the heart of Emily Campbell, who is handling the estate of her uncle, Joseph Hall.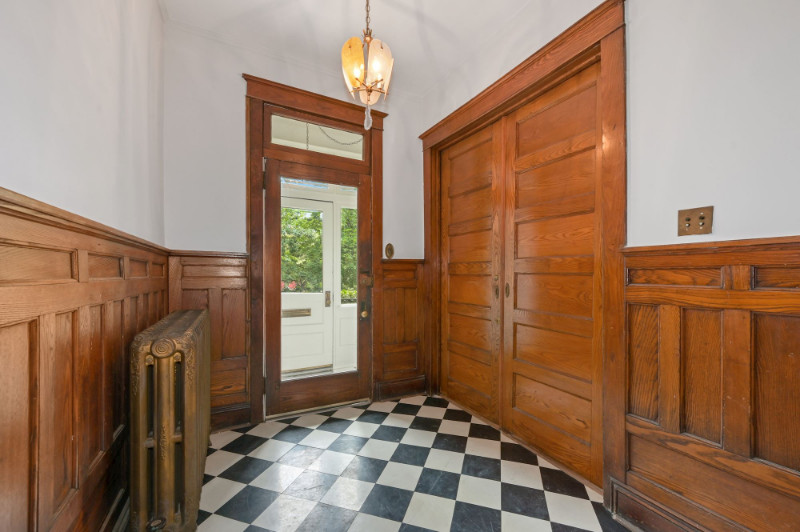 "The new buyers love it, live on the Hill, and are partners as well," said Murphy. "We had offers from developers, but she [Campbell] wanted someone who would appreciate the unique beauty of the house."
"He was like a father to me," Campbell said of Hall. "My three sons would come up from Florida for Christmas and Thanksgiving. Later, I would visit with my grandson, taking the train to Union Station, and walking to the house."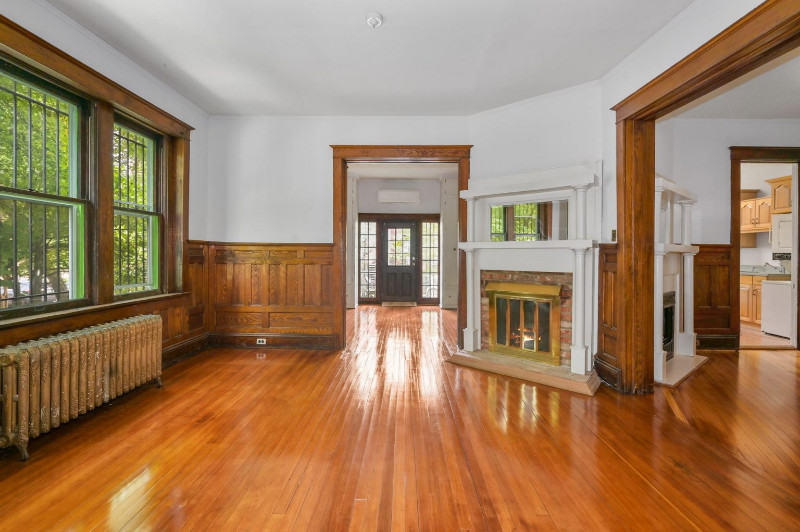 Times Were Different, THEN
Hall and Smith had, shall we say, strait-laced jobs in the 1970s, Hall was a school principal, and Smith worked for Pan Am. Their relationship "was something I knew but we never talked about," said Campbell. "Uncle Joe lived alone until maybe 25 years ago – but Bob was in his life." Until then, Smith had a place in Virginia. When he finally moved in with Hall, he was officially a tenant of the basement apartment.
They were among an early wave of gay real estate investors who saw opportunity in the wonderful, if often a little delapidated, houses on Capitol Hill. Like many others, they juggled real estate with day jobs.
"Uncle Joe and several friends got together and remodeled houses on Eighth Street, I don't know which ones, I didn't pay attention, but I saw quite a few, and they were beautiful. I remember Uncle Joe saying he was always the bank – he paid his mortgage from what he rented out," said Campbell. Fortunately, their best friend was a realtor.
That would be Joel Martin, of ReMax, who they met at Mr. Henry's, 50 years ago, and collaborated with on numerous projects – two four-unit buildings, among other investments. They remained friends until the end.
At the time, Martin was living at 1367 Massachusetts, on Lincoln Park. "We bought houses for investment, not to flip them," he said. "I paid $15,500 for that first home and thought if I ever got $60,000, I'd be damn lucky. I sold it for over a million."
In the 1970's and early '80s, Capitol Hill was a neighborhood that was more welcoming to gays than other parts of town, particularly those ready to settle down and invest in the community. "When you were gay and single you lived in Dupont Circle," said Jim Simpson, a longtime real estate developer. "If you were in a relationship you moved to the Hill."
Many of them caught the real estate bug. "That's what we do," said Jim Simpson with a laugh and a shrug. "Fix them, sell them. Back then, the Hill was affordable compared to northwest." The first house he and partner Ross McWilliams bought was at 408 East Capitol Street. "It was barely habitable," he said. But for $85,000 and an unbelievable location…
They flipped their way into the grand, mansard-roofed manse at 6th and G streets, SE where they still live – they have a second home now, in New Orleans. Simpson is "retired, I guess." McWilliams is a partner in McWilliams Ballard.
"The Hill was small then," Simpson said. "We were our own universe. There were so many gay bars. Mr. Henrys was the epitome – those stained-glass windows, you couldn't see in. Now it's a family joint. There was Remington's, Bachelors Mill, La Cage…"
Many were developed by Herb Lehner, who created about a dozen bars and restaurants along Barracks Row, from Pennsylvania Avenue to the Navy Yard.
Like Mr. Henry's, founded by Henry Jaffe, most welcomed straights as well as gays. Johnnie's, on the corner, where the As You Are Bar is now, "had a drag show every Sunday afternoon," said Maggie Hall, who'd go with her husband Gary and friends. "They put up a cat-walk down the middle of the bar…..the queens came from all over the place to parade up and down. It was always packed."
In a way, that opened the door to the more homogenized community we have now, with gay singles, couples and families commonplace. Hiding their relationships is, thankfully, history.
A New Generation At 802
Steve Koons and Chris Ray, already long-time residents, had been eyeing 802 Massachusetts Avenue for years. "We'd go running and passed the house hundreds of times," said Ray. "It has so much space and light – and it's semi-detached." The tiny park on the corner feels like an extension of the house.
They enjoyed the process of restoring their current home on Tennessee Avenue, NE. "This is a new opportunity. The opportunity to revitalize it is exciting," said Koons.
They have the original plans for the exterior and will restore porches and balconies – the green trim will go, though they haven't chosen a color yet.
The kitchen and baths are utilitarian, to put it kindly, so they will be remodeled. "There will also be a butler's pantry for the china, crystal, and silver," said Koons. The pair are great entertainers.
They will keep the original walls, the woodwork, the six sets of pocket doors, and the three parlors: a front room, a dining room, and a den. "It will not be a bowling alley," said Ray, with a cringe that could be felt down the phone line."
They'll also add a billiards room. "I grew up with one," said Ray. "We'd hang out after Thanksgiving dinner." The table they select will be of the era.
"We like to see what architectural details are original," said Koons. "When we update, we try to fit the style of the house."
Emily Campbell intends to visit a few days before the August 30th closing "to say goodbye to the place, and cry. I always had that place to go to here – it was in DC and that was exciting!"
Her uncle should be very pleased.
Stephanie Cavanaugh writes the Green Acres column for style website Mylittlebird.com