WEBSITES AND ADDITIONAL RESOURCES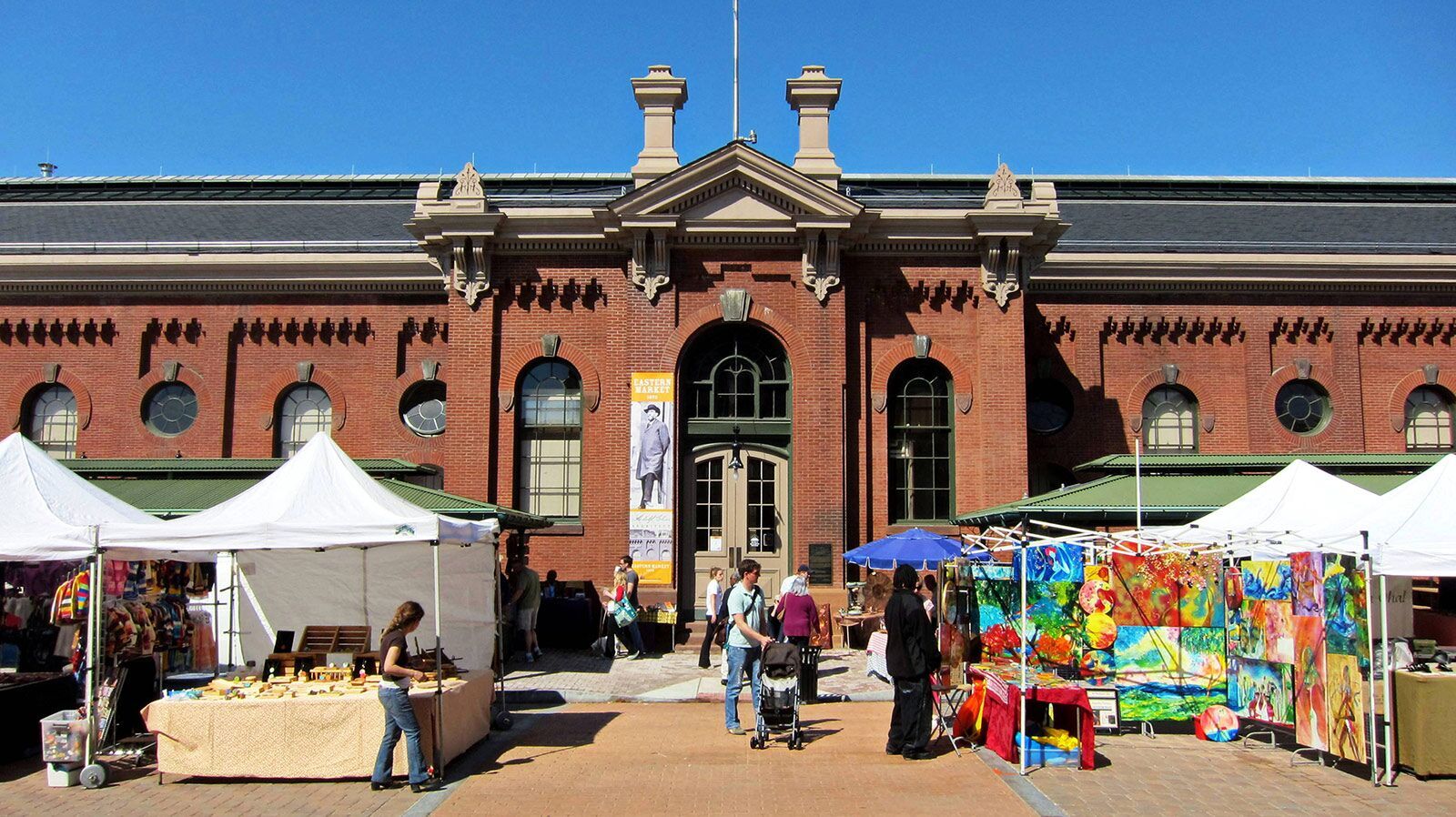 Capitol Hill's landmarks include not only the United States Capitol, but also the Senate and House office buildings, the Supreme Court, the Library of Congress, the U.S. Marine Barracks, the Washington Navy Yard, and Congressional Cemetery.
It is, however, largely a residential neighborhood composed predominantly of row-houses of different stylistic varieties and periods. Side by side exist early 19th century manor houses, Federal townhouses, small frame dwellings, ornate Italianate bracketed houses and the late 19th century press brick row-houses with their often whimsical decorative elements combining Richardsonian Romanesque, Queen Anne and Eastlakian motifs.
The main non-residential corridor of Capitol Hill is Pennsylvania Avenue, a lively commercial street with shops, restaurants and bars. Eastern Market is an 1873 public market on 7th Street SE, where vendors sell fresh meat and produce in indoor stalls and at outdoor farmers' stands. It is a community anchor for nearby stores and restaurants. It is also the site of an outdoor flea market every weekend.
Barracks Row is the popular name for a commercial strip along 8th Street, SE in the Eastern Market neighborhood on Capitol Hill in the Southeast Quadrant of Washington, D.C. between M St., SE and Pennsylvania Ave., SE. The area takes its name from the Marine Barracks, which is located along the street.
Recent estimates in Capitol Hill newspapers suggest as many as a third of all Members of Congress live on Capitol Hill while in Washington.
Famous people who were born in the Capitol Hill neighborhood include John Philip Sousa and J.Edgar Hoover, Frederick Douglasass' former house can be found in the 300 block of A Street Northeast. (In the 1970s the Douglass house was later used as an African Art Museum).
Capitol Hill has several local community newspapers, such as the Hill.
Information provided from Wikipedia and other sources.

Address
Price
Beds
Baths
Lot Size
23 D St SE , Washington, DC 20003

315 C Street SE, Washington, DC 20003

802 MASSACHUSETTS AVENUE NE, WASHINGTON, DC 20002

1319 D St SE, Washington, DC 20003

143 11th Street NE, Washington, DC 20002

113 3rd Street, NE Washington, DC 20002

1317 D Street SE, Washington, DC 20003

630 A Street NE, Washington, DC 20002

723 East Capitol Street, Washington, DC 20003

25 D St, SE, Unit B,, DC 20003
Address
Price
Beds
Baths
Lot Size
23 D St SE , Washington, DC 20003

315 C Street SE, Washington, DC 20003

802 MASSACHUSETTS AVENUE NE, WASHINGTON, DC 20002

1319 D St SE, Washington, DC 20003

143 11th Street NE, Washington, DC 20002

113 3rd Street, NE Washington, DC 20002

1317 D Street SE, Washington, DC 20003

630 A Street NE, Washington, DC 20002

723 East Capitol Street, Washington, DC 20003

25 D St, SE, Unit B,, DC 20003