WEBSITES AND ADDITIONAL RESOURCES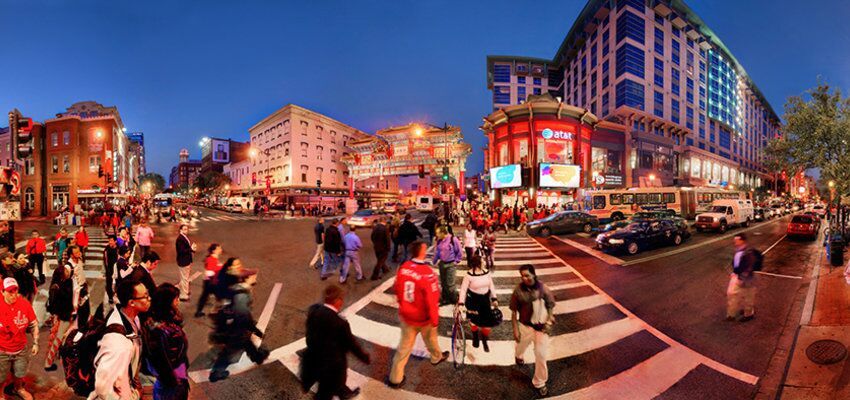 Downtown is a neighborhood of Washington, D.C., as well as a colloquial name for the central business district in the northwest quadrant of the city. Geographically, the area extends roughly five to six blocks west, northwest, north, northeast, and east of the White House. Several important museums, theaters, and a major sports venue are located in the area. A portion of this area is known as the Downtown Historic District and was listed on the NRHP in 2001.
The boundaries of the Downtown district are irregular and difficult to define. Historically, downtown was bounded by Pennsylvania Avenue NW, New York Avenue NW, Massachusetts Avenue NW, and Indiana Avenue NW. This area includes the Penn Quarter, Mount Vernon Square, Chinatown, and Judiciary Square neighborhoods. With the growth of the city, "downtown" is now considered to include Federal Triangle, the Pennsylvania Avenue National Historic Site, the K Street NW corridor west to Connecticut Avenue NW, and the Connecticut Avenue NW corridor below the Dupont Circle neighborhood.
In 1990, the area had about 4,000 residents, but this had increased to 8,449 by 2010. Such increases appear small, but are more significant than they seem because the city's height restrictions limit population density. The completion of the $950 million CityCenterDC project in late 2013 added more residents and fine restaurants.
The Capital One (originally named the Verizon Center), a major basketball, hockey, and events venue, opened in the Chinatown neighborhood on the eastern edge of the downtown district in 1997. It proved to be a major attraction, drawing more than 20 million visitors in its first decade of operation.
Information provided from Wikipedia.