WEBSITES AND ADDITIONAL RESOURCES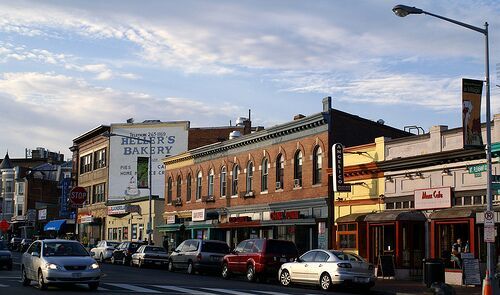 Mount Pleasant is a neighborhood in the northwestern quadrant of Washington, D.C. The neighborhood is bounded by Rock Creek Park to the north and west; and Harvard Street, NW, and the Adams Morgan neighborhood to the south; and Sixteenth Street, NW, and the Columbia Heights neighborhood to the east.
Since Mount Pleasant's street grid is distinct from the city's cartesian grid, some of its streets appear to have been laid haphazardly, with several intersecting city streets at odd or severe angles. Examples of these include Adams Mill Road, Mount Pleasant Street, Newton Street, and Park Road all laid out to follow early local custom circa late 1800's, and to accommodate local needs and land ownership.
In the 1870s, a horse-drawn streetcar began traveling from the 14th and Park intersection to downtown Washington City, creating the first Streetcar Suburb in the District of Columbia. Mount Pleasant developed rapidly as a streetcar suburb after the opening of the streetcar line around 1900. Many houses and apartment buildings were constructed between 1900 and 1925. Washington luminaries actress Helen Hayes, Washington Senators' pitcher Walter Johnson, and US Senator Robert LaFollette made their homes in Mount Pleasant.
Information provided from Wikipedia.

Address
Price
Beds
Baths
Lot Size
1809 Kilbourne Pl NW, Washington, DC 20010

2039 PARK RD NW, WASHINGTON, DC 20010

1879 Newton St NW, Washington, DC 20010

1726 KILBOURNE PL NW, WASHINGTON, DC 20010

1874 Ingleside Ter NW , Washington, DC 20010

1829 INGLESIDE TER NW, WASHINGTON, DC 20010

3234 WALBRIDGE PL NW, Washington, DC 20010

2717 Ontario Rd NW #401, Washington, DC 20009

1608 Beekman Place # B NW, Washington, DC 20009

1879 Newton Street NW, Washington, DC 20010